News
14 мая 2019 11:41
Moscow Domodedovo Airport joined DragonPass program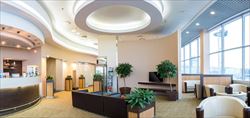 114 May, 2019. Domodedovo. Moscow region. Moscow Domodedovo Airport has started serving DragonPass cardholders. DragonPass members can access airport business lounges located in both domestic and international departures zones as well as Shostakovich Premier Lounge situated in the domestic departures zone*.
The airport lounges are open around the clock and available for all passengers regardless of fare class. Moscow Domodedovo Airport features different services in business lounges including an all-you-can-eat buffet, a working space, free Wi-Fi, TV, printed media, kid's play areas as well as flight status notifications.
Moscow Domodedovo Airport also offers DragonPass cardholders discounts at seven restaurants and cafes at the terminal. To ensure Chinese guests' convenience, we have placed terminal signs in Chinese. Moreover, our venues accept China UnionPay cards.
There are ten business lounges at Moscow Domodedovo Airport. The airport manages five business lounges while S7 and Swiss airlines, as well as UTG aviation services, handle the rest of them. To ensure seamless traveling experience, Moscow Domodedovo Airport commenced an online service allowing to book and pay for VIP and business lounges. At lounge.dme.ru a passenger can order airport services in 80 Russian cities and 64 countries including Domodedovo.
Established in 2005 DragonPass Program has over 12 million members around the world. The program covers more than 450 airports and 115 countries globally.
*For further information on business lounges at Moscow Domodedovo Airport, please visit our website at dme.ru.
For further media inquiries, please contact:
Alexander Vlasov
Tel.: +7 (495) 795 34 27
pr@dme.ru
http://www.dme.ru
Moscow Domodedovo Airport is one of the largest air hubs in Russia. Members of the world's leading airline alliances including Star Alliance and oneworld have chosen Moscow Domodedovo Airport for their flights to and from Moscow. Moscow Domodedovo Airport is the only airport in Russia handling flights operated by Airbus A380 and Airbus A350-900 on an ongoing basis.