News
16 апреля 2019 10:18
Moscow Domodedovo Airport celebrates the first anniversary of flights return to Egypt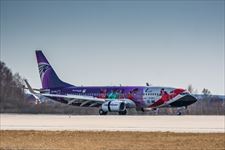 Photo credit: Andrey Berestov.
16 April, 2019. Domodedovo, Moscow region. Moscow Domodedovo Airport and EgyptAir celebrate the first anniversary of flights return to and from Cairo after resuming regular air services between Russia and Egypt.

In 2018 EgyptAir carried 24 000 passengers to and from Cairo matching the 2015 numbers when flights to Egypt were suspended. The EgyptAir В737-800 performs flights three times a week on Tuesday, Thursday and Sunday.

EgyptAir is Egypt's flag carrier airline which was the first company in the Middle East to join Star Alliance. Moscow Domodedovo Airport and EgyptAir have been cooperating since 2003. In partnership with EgyptAir, Moscow Domodedovo Airport has served 382.000 passengers and operated 5.000 airfield operations.

In 2018 Moscow Domodedovo Airport expanded its route network adding new flights to Africa. For instance, in March 2018 Royal Air Maroc opened flights to and from Casablanca. Moreover, in December Ethiopian Airlines launched flights to and from Addis Ababa.

For further media inquiries, please contact:
Alexander Vlasov
Tel.: +7 (495) 795 34 27
pr@dme.ru
http://www.dme.ru

Moscow Domodedovo Airport is one of the largest air hubs in Russia. Members of the world's leading airline alliances including Star Alliance and Oneworld have chosen Moscow Domodedovo Airport for their flights to and from Moscow. Moscow Domodedovo Airport is the only airport in Russia handling flights operated by Airbus A380 and Airbus A350-900 on an ongoing basis.