News
22 марта 2019 10:52
Moscow Domodedovo Airport launched an online booking service for VIP and business lounges in 64 airports all over the world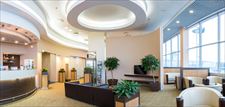 Moscow Domodedovo Airport commenced an online service allowing to book and pay for VIP and business lounges in Domodedovo as well as in 80 other Russian and 64 international airports.

The new solution is a result of a partnership with a business travel agency Travelmart. With this feature, a passenger can order fast track services and quickly pass preflight formalities with airport stuff guidance.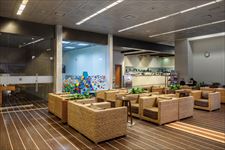 Business lounges at Moscow Domodedovo Airport are quite popular among passengers. In 2018 approximately 600 000 people visited our lounges, a 12% year-to-year rise. Business lounges are located in both domestic and international departures zones. The lounges are open around the clock and available for all passengers regardless of fare class. Moscow Domodedovo Airport features different services in business lounges including an all-you-can-eat buffet, a working space, free Wi-Fi, TV and printed media, a cloakroom. What is more, we also offer an individual transfer to the airplane.

There are ten business lounges at Moscow Domodedovo Airport. The airport manages five business lounges while S7 and Swiss airlines, as well as UTG aviation services, handle the rest of them.

Moscow Domodedovo Airport strives to develop online services. Every day 35 000 users visit our official website. On the website, passengers can buy airline tickets or insurance and book a hotel.

For further media inquiries, please contact:
Alexander Vlasov
Tel.: +7 (495) 795 34 27
pr@dme.ru
http://www.dme.ru

Moscow Domodedovo Airport is one of the largest air hubs in Russia. Members of the world's leading airline alliances including Star Alliance and Oneworld have chosen Moscow Domodedovo Airport for their flights to and from Moscow. Moscow Domodedovo Airport is the only airport in Russia handling flights operated by Airbus A380 and Airbus A350-900 on an ongoing basis.