News
07 июня 2019 12:25
Holiday Inn Hotel to open near Moscow Domodedovo Airport as a part of a deal signed during the St. Petersburg International Economic Forum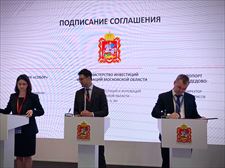 The total investment volume for the project amounts to 900 million rubles. The hotel will offer 148 rooms.

7 June, 2019. Saint-Petersburg. Minister of Investments and Innovations in Moscow region Michael An, Director of Moscow Domodedovo Airport Igor Borisov, and MC Sobor Development Company representative Julia Lukyanchuk have signed an agreement to establish Holiday Inn hotel during the St. Petersburg International Economic Forum.

The project is an integrative part of Moscow Aerotropolis development strategy. Due to the airport's close proximity, the new airport city is going to demonstrate accelerated commercial growth. The initiative aims at building a new airport city within a 20 km radius of the air hub. Moscow Aerotropolis will include different clusters, such as commercial, recreational, business, exhibition, industrial, and agricultural.

Holiday Inn Hotel will become a part of a 20 hectares multifunctional complex, comprising a shopping mall, car parks, and motorway service facilities. InterContinental Hotels Group will manage a 148 room Holiday Inn.

MC Sobor Development Company plans to invest approximately 900 million rubles in the hotel. Holiday Inn Hotel is scheduled to open in Q4 2020. The hotel will be 8 km away from the airport.

For further media inquiries, please contact:
Alexander Vlasov
Тel.: +7 (495) 795 34 27
pr@dme.ru
http://www.dme.ru

Moscow Domodedovo Airport is one of the largest air hubs in Russia. In 2018 the airport served 29.4 million passengers. Members of the world's leading airline alliances including Star Alliance and Oneworld have chosen Moscow Domodedovo Airport for their flights to and from Moscow. Moscow Domodedovo Airport is the only airport in Russia handling flights operated by Airbus A380 and Airbus A350-900 on an ongoing basis.