News
06 августа 2019 18:00
Smartavia records its millionth DME passenger in 2019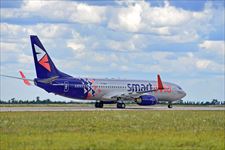 Photo credit: Yury Yuganson
6 August, 2019. Domodedovo, Moscow region. Smartavia and Moscow Domodedovo Airport congratulated its millionth passenger this year. A passenger traveling to Ulan-Ude from Moscow became the lucky one. The airline provided all passengers of the jubilee flight with sweet gifts.

Smartavia and Moscow Domodedovo Airport have been fruitfully cooperating for many years. In June 2019, the airline opened flights to Ulan-Ude and Stavropol. In July, Smartavia launched flights to Rostov-on-Don, Anapa, Gelendzhik, and Yerevan. Since 2 August, the airline has started flying to Novosibirsk and Vladikavkaz. Smartavia operates three-time weekly service to the heart of Siberia on Mondays, Fridays, and Saturdays. The airline carries out five-weekly service to the capital of North Ossetia on Mondays, Wednesdays, Fridays, Saturdays, and Sundays.

In H1 2019, Smartavia passenger traffic to Moscow Domodedovo rose by 40%, up to 204 thousand air travelers. The growth of numbers derives from the increased flight frequency on a range of destinations, including Makhachkala, Mineralnye Vody, Orenburg, and Turkey. In partnership with Moscow Domodedovo, the airline has served over 1.6 million passengers since 2014.

For further media inquiries, please contact:
Alexander Vlasov
Tel.: +7 (495) 795 34 27
pr@dme.ru
http://www.dme.ru

Moscow Domodedovo Airport is one of the largest air hubs in Russia. In 2018 the airport served 29.4 million passengers. Members of the world's leading airline alliances including Star Alliance and Oneworld have chosen Moscow Domodedovo Airport for their flights to and from Moscow. Moscow Domodedovo Airport is the only airport in Russia handling flights operated by Airbus A380 and Airbus A350-900 on an ongoing basis.