Show publications:
News theme

News
19 апреля 2021 15:18
Sochi was the most popular destination from Domodedovo Airport in March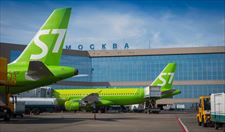 Photo Credit: Alexey Prikhodko
Moscow Domodedovo Airport welcomed 1.7 million passengers in March 2021, a 20% year-to-year increase. Sochi was the most popular domestic destination, while Turkish cities were high on the list of international flights from Domodedovo.
On domestic airlines the airport served more than 1.5 million passengers, a 44% year-to-year increase. The most popular/in-demand destinations were Sochi, Simferopol, Saint Petersburg, Ekaterinburg and Krasnodar. They were chosen by more than 570 thousand Domodedovo passengers, a 55% year-over-year rise. Sochi was the leader of the rating — in the first month of spring passenger traffic reached 225 thousand people, an increase of 94% over the same period in 2020 and 81% over this period in 2019.
Passenger traffic on international flights amounted to almost 250 thousand people. Demand for Turkish cities in March 2021 increased by 107% over the same period in 2020 and 94% over this period in 2019. Besides positive dynamics was registered on flights to Cairo — in March traffic increased 5.5 times compared to 2019.
For further media inquiries, please contact:
Alexander Vlasov
Phone: +7 (495) 795 34 27
pr@dme.ru
http://www.dme.ru
Moscow Domodedovo Mikhail Lomonosov Airport is one of the largest air hubs in Russia. In 2020, the airport served 16.4 million passengers. Members of the world's leading airline alliances including Star Alliance and oneworld have chosen Moscow Domodedovo Airport for their flights to Moscow.