News
10 июня 2019 18:50
TAP Air Portugal and Moscow Domodedovo Airport celebrate the tenth anniversary of their partnership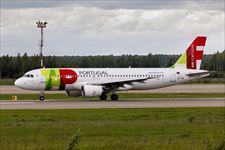 Photo credit: Ilya Martemyanov
10 June, 2019. Domodedovo, Moscow region. Moscow Domodedovo Airport and TAP Air Portugal, the flag carrier airline of Portugal, commemorate ten years of cooperation.

Deploying comfortable flights to the Portuguese capital, 569.7 thousand passengers have enjoyed the fruits of this partnership. In partnership with Moscow Domodedovo Airport, TAP Air Portugal has operated 5.4 thousand flights. Over the last ten years, the average annual growth rate of passenger traffic on the route has risen 8%.

«We value our long-term partnership and strive to go ahead with the destination development as Portugal's appeal among tourists is growing. In 2018 passenger traffic on the route amounted to 89.8 thousand passengers, a 20% year-over-year increase", said Director of Moscow Domodedovo Airport Igor Borisov.

TAP Air Portugal is offering daily flights from Moscow Domodedovo Airport. Airbus А320 and А319 are carrying out operations on the route.

For further media inquiries, please contact:
Alexander Vlasov
Тel.: +7 (495) 795 34 27
pr@dme.ru
http://www.dme.ru

Moscow Domodedovo Airport is one of the largest air hubs in Russia. In 2018 the airport served 29.4 million passengers. Members of the world's leading airline alliances including Star Alliance and Oneworld have chosen Moscow Domodedovo Airport for their flights to and from Moscow. Moscow Domodedovo Airport is the only airport in Russia handling flights operated by Airbus A380 and Airbus A350-900 on an ongoing basis.