News
19 марта 2019 15:03
Moscow Domodedovo Airport and S7 Airlines presented a pop-up exhibition featuring classic cars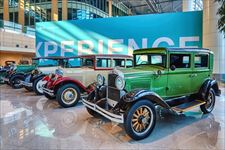 Photo credit: Alexander Kobtsev
19 March 2019. Domodedovo, Moscow region. Moscow Domodedovo Airport together with oneworld® global aviation alliance member S7 Airlines invite passengers to take a fresh look at terminal's space and to visit an automobile show. The pop-up exhibition has opened in the new domestic atrium where original building construction creates natural lighting ensuring perfect conditions for display.

Any journey is a constant movement, in which we are always looking for new experiences, feelings, emotions. An airport embodies an initial stage for many travels as well as a meeting point for world cultures and a hub for thousands of stories. The classic automobile show in the arrival zone turns the airport itself into a contemporary museum where different eras intertwine.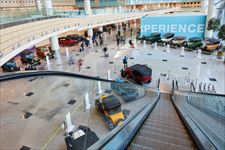 Photo credit: Alexander Kobtsev
The exhibition features 24 cars and 2 motorbikes dating back to 1920s-1930s including models of leading French, American, Italian and German manufacturers. It also demonstrates first series versions of Citroen, Peugeout, Chevrolet, Ford, Dodge, Pontiac, Fiat, Opel as well as rarities of Chenard & Walcker, Delahaye, Micahel Irat, etc.

Domodedovo's passengers will get a unique chance to have a look at some iconic cars. For instance, we have the Renault NN bought by Vladimir Mayakovsky for Lilya Brik. Mayakovsky dedicated to it a poem called 'Responding to future rumors'.



For further media inquiries, please contact:
Alexander Vlasov
Tel.: +7 (495) 795 34 27
pr@dme.ru
http://www.dme.ru

Moscow Domodedovo Airport is one of the largest air hubs in Russia. Members of the world's leading airline alliances including Star Alliance and Oneworld® have chosen Moscow Domodedovo Airport for their flights to and from Moscow. Moscow Domodedovo Airport is the only airport in Russia handling flights operated by Airbus A380 and Airbus A350-900 on an ongoing basis.

S7 Airlines is a member of the oneworld® global aviation alliance. The airline has built a wide destinations network using air transport hubs in Moscow (Domodedovo) and Novosibirsk (Tolmachevo). S7 Airlines operates regular flights to the Commonwealth of Independent States (CIS), Europe, the Middle East, Southeast Asia and Asia-Pacific countries. Today S7 Airlines has the newest and one of the most modern aircraft fleets on the Russian air transportation market. The airline uses aircrafts of the world's leading manufacturers such as Airbus, Boeing and Embraer. The airline is a part of the S7 Group. In 2018 its member airlines carried more than 15.9 million passengers.