News
20 June 2018
The first flight welcomed at the new segment of Domodedovo terminal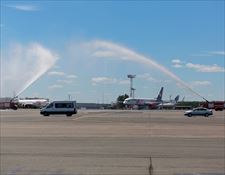 20 June, 2018. Domodedovo, Moscow region.
Moscow Domodedovo Airport and its partner air company AZUR air welcomed the first passengers at the T2 – the new segment of the passenger terminal at Domodedovo Airport.
«We are happy to welcome first passengers together with AZUR air which is an important partner of the airport in the development of passenger flights to the popular summer vacation destinations. Together we have handled 4 million passengers. We are convinced that air travelers will appreciate the comfort and quality of the new international flights gallery,» said Mr. Igor Borisov, CEO at Moscow Domodedovo Airport.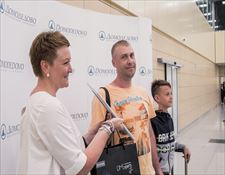 «The inauguration of the new segment of Domodedovo terminal provides the passengers of AZUR air and other air carriers with the new excellent infrastructure, comfort as well as most modern services at the airport. Congratulations to our partner on the opening of such a facility and expanding the terminal's area significantly. We are delighted that Domodedovo Airport continues to grow and develop while staying one of the leading airport complexes of the country,» said Yuri Stogniy, CEO at AZUR air.
The new international flights gallery which is located at the T2 terminal became the biggest terminal facility inaugurated on the occasion of the World Cup 2018. Its area exceeds 157,000 square meters.
Contact person for media inquiries:
Alexander Vlasov
Tel.:
+7 (495) 795 34 27
pr@dme.ru
http://www.dme.ru
Moscow Domodedovo Airport is one of the largest Russian air hubs ranked in Russia's Air Gateway rating as the best airport in Russia. In 2017, the airport served 30.7 million passengers. The route network includes 66 unique destinations. Members of the world's leading airline alliances - Star Alliance and oneworld have chosen Moscow Domodedovo Airport for their flights to and from Moscow. Moscow Domodedovo Airport is Russia's only airport regularly handling flights operated by Airbus A380 and Airbus A350-900.