24 hours check-in
CHECKING IN AT THE AIRPORT IN ADVANCE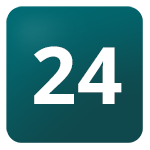 You can check in at the airport 24 hours before departure at the desk opened for registration of your flight.
You can get the check-in desk number on the online board in the card of your flight, on the information boards located on the 1st and 2nd floors of the common area of the passenger terminal, as well as at the information desk (Meeting point).
You can choose your favourite seat on the flight and drop off your baggage at any convenient time.
After completing check-in, you can enter and leave the airside as often as you wish. Remember, however, that you have to go through security every time you enter the airside.
This option is available for regular flights operated by following partner airlines:

S7 airlines

Alrosa

Izhavia

Ural Airlines

Yamal
SWISS

NordStar

Red Wings

Нордавиа (Smartavia)
You can check-in for S7 airlines flights 36 hours before departure.