Police
AIRPORT POLICE UNIT (RUSSIAN MINISTRY OF THE INTERIOR)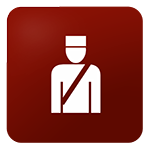 Ground floor, right wing of the Terminal's common area. Entrance from Level 1.
+7 495 967-82-78
Police at Moscow Domodedovo Airport are on duty around the clock.
Attention!
If you are a witness of an unlawful act or have any information about a security threat to the passengers or the airport, please call the 24/7 hotline of the Russian Ministry of the Interior call center at Domodedovo Airport at +7 495 967 82 78
or the emergency hotline at: +7 495 543 99 55.