Pre-flight security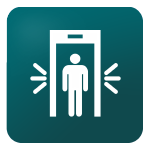 Pre-flight security check is conducted by the aviation security in the interests of your personal security. Security screening of passengers and their cabin and check-in baggage is mandatory. Passenger refusing to undergo pre-flight security will be denied boarding.
Pre-flight security check of passengers, their cabin and check-in baggage is carried out after check-in, pre-flight security check of passengers traveling on international flights-before customs and passport control.
On the second floor of the airport, there is a single inspection center designed for passengers of international and domestic flights.
Pre-flight security check
Be ready to present your ticket,electronic*/paper boarding pass, and identity document.
Take off and place in a plastic basket your outer garments, hat, belt, watch, and other metal objects. You may be asked to take off your shoes.
Place in your cabin baggage or in the plastic basket mobile phones, tablets, lighters, cigarettes, coins, keys, and other metal objects.
Place your cabin baggage horizontally on the introscope belt. Do not place your cabin baggage on the belt edge - when activated, the belt may travel in the opposite direction causing you cabin baggage to fall.
If you use an electronic boarding pass, present the QR code * on any electronic device (smartphone, tablet): - to the transportation security officer at the entrance to the pre-flight inspection area; - at the entrance to the customs control zone through the turnstile; - when passing passport control to a border control officer; - when boarding the aircraft through the turnstile, independently scan the QR code.
* Do not photograph the QR code of the electronic boarding pass from the computer screen, it will not be read by scanner.
If you have no implanted pacemakers, go through the metal detector gate.
You have a pacemaker?
Do not enter the detection area of the stationary metal detector gate!
Passengers with pacemakers undergo manual security check without the use of technical and special means.
Please report any such restrictions to the aviation security officer checking your travel documents or when preparing for the pre-flight security check.
Cabin baggage inspection
During the cabin baggage inspection, you may be asked to open your baggage for inspection of contents.
We strongly recommend that you do not wrap your cabin baggage.
Dangerous substances and items discovered in the passenger's cabin baggage (check-in baggage) during the pre-flight security check can be handed over to accompanying persons (if traveling on a domestic flight) or placed in temporary storage for up to 1 month.
Attention! Compressed gases, toxic, poisonous and flammable liquids are not accepted for storage.
Transportation of liquids
Liquids allowed in cabin baggage:
water and other drinks, soups, syrups, jams, honey;
creams, lotions, oils;
perfumes;
aerosols;
gels, including hair and shower gels;
contents of containers under pressure, including shaving foam, other foams and deodorants;
pastes, including tooth paste;
liquid-solid mixtures;
mascara;
other substances of similar consistency.
Baby food, medications, and dietary foods
may be carried in cabin baggage, but the aviation security officer may ask you for proof that you need them in flight (medical certificate, prescription)..
All liquids listed above must:
not exceed 100 ml per container (liquids in containers larger than 100 ml will not be accepted for carriage, even if the container is only partially filled);
be placed in a transparent plastic sealable bag sized 18x20 cm, combined volume of liquids in the bag (based on container volume) must not exceed 1 liter;
Packing liquids:
Only one plastic bag per passenger is allowed.
Plastic bags are available to passengers free of charge at check-in desks and before pre-flight security.
The above-mentioned liquids must be presented at pre-flight security separately from your other cabin baggage.
Items that were purchased at the duty-free store and contain liquids will be packed in plastic bags and sealed. Do not unseal the bag until you have reached your final destination.
All other liquids allowed to be taken on board, but not meeting the above requirements, must be placed in advance in your check-in baggage.
Transportation of weapons in legal possession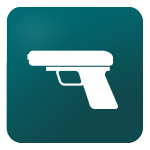 Any weapons that you lawfully possess and carry must be surrendered to the carrier at the departure airport for temporary storage during the flight and will be returned to the passenger at the end of the flight at the destination airport.
Placement of your weapons in temporary storage during the flight will be evidenced with a receipt signed in triplicate by you, the owner of the weapons, and the aviation security officer. Weapons will be returned to you by the destination airport's aviation security upon presentation of the receipt.
Responsibility
Passengers who have been found in possession of dangerous substances and items, whose manufacture, possession, and storage is a criminal offense (weapons, ammunition, explosives, firing devices, explosive devices, narcotics, toxic, poisonous, radioactive substances, etc.), are denied boarding and, together with such substances and items (report and seized substances and items), handed over to the police for further investigation.
Attention!
If you are a witness of an unlawful act or have any information about a security threat to the passengers or the airport, please call any of the 24/7 hotlines at Moscow Domodedovo Airport: