Printing services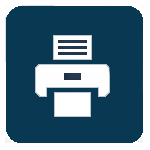 The printing service is located at the information desk(Meeting point).
The price of the service is 1.17 USD per page.
The payment is charged in rubles at the exchange rate of the Central Bank on the date of the purchase.
In order to print the document, send it to the email address print@dme.ru
Printing of medical documents is only available for passengers, traveling with Aegean, Air Arabia, Austrian, British airways, Egypt Air, EL AL, Emirates, Gulf Air, Lufthansa, Royal Jordanian, Singapore, Swiss, Royal Air Maroc, Oman Air, Ethiopian airlines.