Tax Free
Tax Free at Moscow Domodedovo Airport
How does the VAT refund system work?
Moscow Domodedovo Airport has implemented as a pilot project a tax-free shopping system allowing foreign citizens to claim a refund of the value-added tax (VAT). Documents required to claim a VAT refund can be filled out in the Terminal.
Foreign citizens, excluding citizens of the Eurasian Economic Union countries (Armenia, Belarus, Kazakhstan, Kyrgyzstan), are eligible to claim a refund.

To be issued a voucher for the refund of the paid tax, a foreign citizen should within 24 hours purchase goods for an amount not less than RUB 10,000, including taxes, in stores of same brand.
Foreign citizens can claim up to 18%, less the tax-free operator's fee, if the goods have been exported from Russia within three months from the date of purchase.
How to execute a refund?
When checking in for your flight, let the check-in agent know that there are tax-free items in your baggage. After check-in, the agent will escort you to the CUSTOMS TAX FREE CONTROL desk at the check-in counter 94 for a customs inspection and validation of the tax refund documents. Here you will check in your baggage after the customs inspection.

If the tax-free items are in your hand luggage, the customs inspection takes place and the tax refund documents are issued at CUSTOMS TAX FREE CONTROL offices, which can be found in the international departure area of international airlines after security.

After the customs inspection and issuance of the necessary documents, please drop the tax-free cash receipts and documents in the box marked with the tax-free operator's brand. You will find the boxes next to the tax-free inspection desks.
TAX FREE
If the goods subject to Tax Free are transported in luggage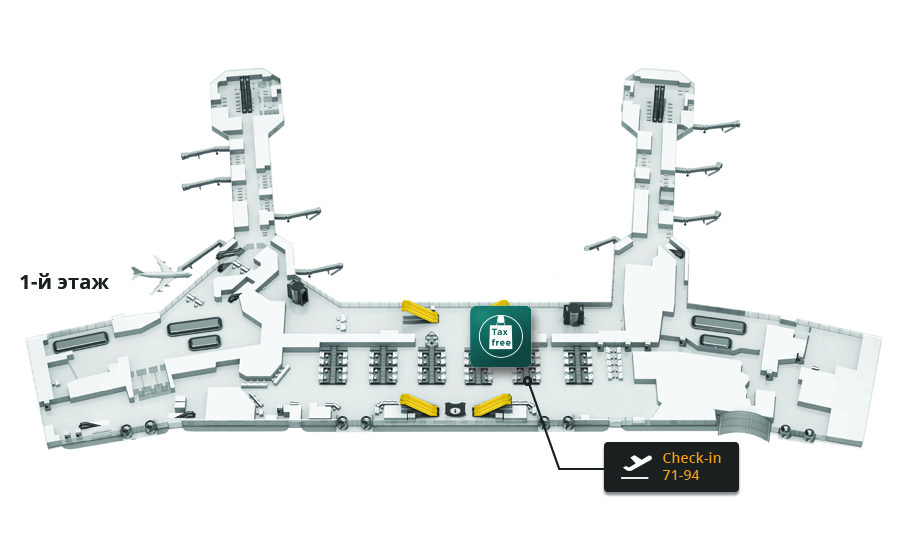 If the goods subject to Tax Free are transported in hand luggage